THE MOTH PROJECT – A Mesmerizing Mix of Music, Moths, and Migration Takes Flight 
From the GRAMMY nominated creator of the East Village Opera Company
THE MOTH PROJECT is embarking on a North American tour of prestigious venues, from national museums and clubs in Toronto and Ottawa to Santa Fe's Botanical Gardens to NYC's cultural hubs.
Debut album (MUSIC/PICTURES/WORDS) release on October 10th takes listeners on a unique journey through art, science, and personal narrative.
During the unprecedented isolation of summer 2020, two brothers – a biologist and a musician – found themselves under the same roof of their family cottage. Quarantined with their collective six children, they turned to evening campfires, stirring conversations, and the rich biodiversity surrounding them. From these nights emerged THE MOTH PROJECT, a blend of art and science, personal history and moth lore, that paint an entirely original and unexpected picture of our relationship to the natural world.

At its heart, THE MOTH PROJECT is a 75-minute live performance featuring Peter Kiesewalter on keyboard and Whitney La Grange on violin, juxtaposing music from varied genres, ranging from Bach to Joni Mitchell to KISS, against a backdrop of mesmerizing visuals inspired by the rich diversity of moths.
"While the music alone is a journey through time, the show's macro     photography, slow-motion video, and dynamic motion graphics transport the audience to a world inspired by moths" –  Kiesewalter

The narrative arc draws parallels between moths' journey and his family's migration (like so many millions today) to a new world.

Digging deeper, the show is not just a visual and auditory delight. It interweaves science, Western and Indigenous mythologies, echoing Indigenous narratives that view moths as guardians of dreamtime or messengers oscillating between realms of the living and the dead. The project stands as a testament to the multiple ways we, as humans, connect to our broader ecosystem. The profound journey of moths – from egg to caterpillar, and then into their cocooned phase, only to emerge as fabulous, winged beings – finds a parallel in the human spirit's resilience and capacity for change.
As scientists across the globe highlight the urgency of ecological awareness, urging for humanity to pay attention before it's too late, THE MOTH PROJECT serves as a beacon. With entomologists and researchers lending their footage and expressing delight that these often-overlooked creatures are now in the spotlight, the project underscores the radical act of simply paying attention – to moths and every living species.

After captivating audiences at arts and science conferences in 2023, the project is now resonating with diverse venues, from theaters to botanical gardens. Robin Wall Kimmerer, esteemed botanist, MacArthur Fellow, best-selling author of Braiding Sweetgrass, and an enrolled member of the Citizen Potawatomi Nation, endorsed the project, her voice narrating the piece, Reciprocity, which asks:
"What can I gift the Earth in return for the privilege of breath?" – Kimmerer

One way, Kimmerer writes, is to create transformative works of art that help us pay attention and feel connected to our natural world.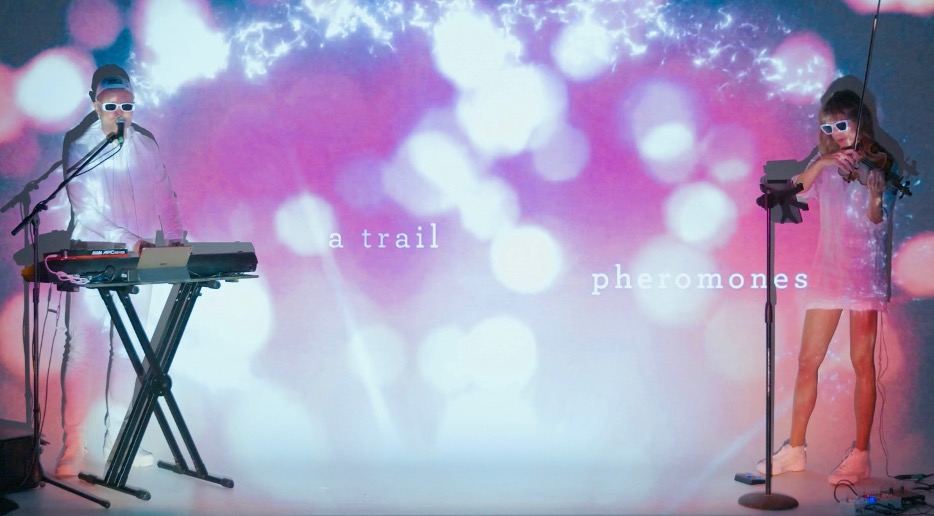 In his forthcoming book, Kiesewalter delves deeper into his inspiration –
 
"Imagine reaching the mid-point of your life cycle and annihilating yourself on a cellular level for the possibility of beautiful transformation. It's a truly remarkable act – incredible in its chemistry and profound in its symbolism."

THE MOTH PROJECT is embarking on a North American tour, showcasing its blend of music, moths, and narrative at several prestigious venues this year and beyond. The journey commenced at the esteemed Royal Ontario Museum in Toronto in late August and will traverse diverse settings, from the intimate ambiance of the Studio Theatre in Perth, Ontario to the picturesque surroundings of the Santa Fe Botanical Gardens. The project's reach extends to bustling cultural hubs like New York City's Cutting Room and culminates in a performance at the iconic National Arts Centre in Ottawa this October. Audiences across these cities can expect a transformative experience, seamlessly weaving art, science, and storytelling into one mesmerizing tapestry.
 
For those seeking to immerse themselves in this enchanting world of music, pictures, and words, about and inspired by moths, more information, including tour dates and videos, is available at www.mothprojectlive.com.