About Us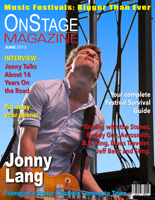 At Onstage Magazine, dba Onstagemagazine.com, we have a passion for all things music. Our team of writers, photographers, and music enthusiasts are dedicated to bringing our readers the latest news, reviews, and insights from the world of music. Whether you're a die-hard fan or a casual listener, we have something for everyone.
Our goal is to provide our readers with a unique perspective on the music industry. We cover everything from the biggest concerts and festivals to up-and-coming artists that you need to know about. Our concert reviews and professional photography capture the energy and excitement of live performances, giving you a front-row seat to some of the hottest shows in the country.
As a US-based music blog, we have our finger on the pulse of the music scene. We're dedicated to supporting local artists and promoting the diversity of music. Our team of writers has a deep knowledge of the genre and a passion for discovering new talent, so you can trust us to deliver the latest and greatest in music. Our professional photographers, with decades of experience bring you stunning magazine quality live images that rival the front row seats.
At Onstage Magazine, we pride ourselves on providing honest and unbiased reviews of the latest concerts and music releases. Whether it's an album from a chart-topping artist or a debut EP from a rising star, or a live performance that goes off the rails, we give you our unfiltered opinion on what's worth listening to. Our team of music experts has years of experience in the industry, so you can trust us to give you the inside scoop.
We're not just a music blog – we're a community of music fans. We love nothing more than sharing our passion for music and live concert photography with our readers. Whether you're looking for the latest news, concert reviews, or just want to chat about your favorite artists, OnstageMagazine.com is the place for you. Join us on social media or drop us a line – we'd love to hear from you!
Managing Editor:
William Shears
Executive Assignment Editor/ Artist Relations
Larry Philpot
Content Editor
Kath Galasso, New Jersey

Staff Writers:
Bobby Owsinski: Senior Technical Writer, Hollywood, CA
  All content Copyright 2012-2023.  
On Stage Magazine
is a division of OnStage Media Group, LLC.  Copyrights of YouTube video, or other media including recordings, interviews and photographic materials displayed on this site remain the property of their respective owners. OnStage Media Group, LLC, d/b/a OnStage Magazine and onstagemagazine.com, onstagemagazine.co.uk, and onstagemagazine.ca makes no claim whatsoever to the ownership of the intellectual property of those respective owners of content.