Marty Stuart at Brown County Indiana 6.23.22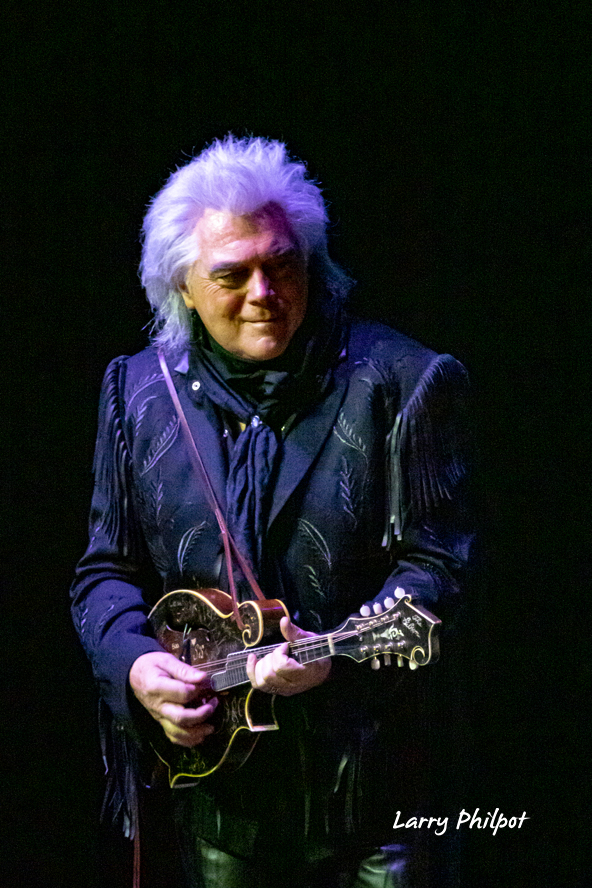 Bluegrass, rockabilly and traditional country legend Marty Stuart brought a thoroughly enjoyable evening to the Brown County Music Center in Nashville INDIANA last Thursday night. Clearly, one of the best shows you'll see, but especially enjoyable at this venue, in the heart of Marty's influence, near the adopted home of bluegrass legend Bill Monroe.
Bill Monroe, born William Smith Monroe was an American mandolinist, singer, and songwriter, who created the bluegrass music genre. Because of this, he is often called the "Father of Bluegrass". The genre takes its name from his band, the Blue Grass Boys, who named their group for the bluegrass of Monroe's home state of Kentucky. Monroe's performing career spanned 69 years as a singer, instrumentalist, composer and bandleader. Stuart has clearly taken up the mantle and continues the tradition.
Marty Stuart told the tale of falling in love with Bluegrass and the mandolin in his very early years, and the next year, Stuart's father brought him to the Bill Monroe Bluegrass Festival at about age 11 or 12, and the rest is history. Stuart was only 13 when another bluegrass legend, Lester Flatt hired him as a mandolinist.

Even though Monroe passed away in 1996, the small Indiana town of Bean Blossom still hosts the Bill Monroe Bluegrass festival, just down the street from this venue, the Brown County Music Center. Bill Monroe's bluegrass festival just occurred JUNE 10-18, 2022 This annual event is held in beautiful Brown County, Indiana at the historic Bill Monroe Music Park & Campground. The event returned to it's original June dates in 2022 for 9 days of bluegrass music, jams around the campground and on stage, workshops and the traditional free Bean Dinner.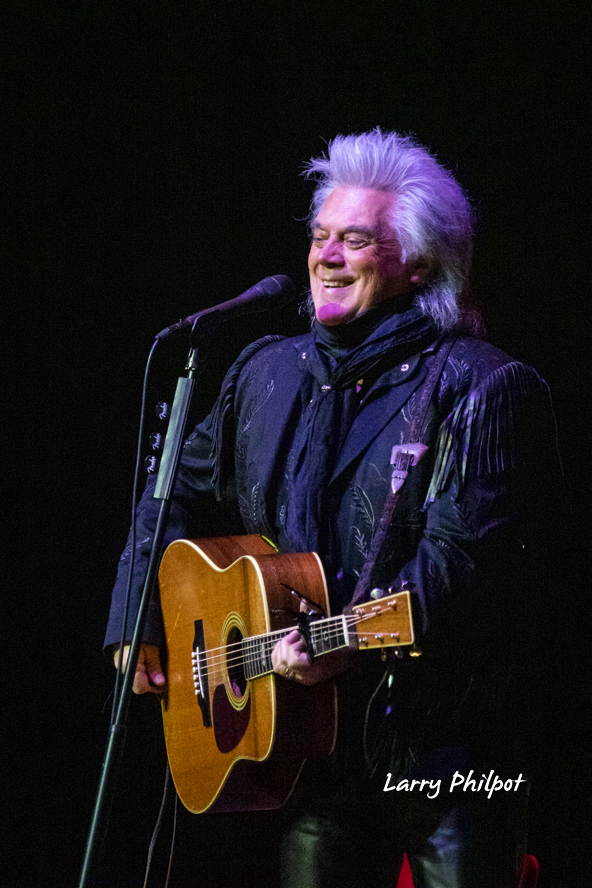 The bluegrass influence was heavy at this show, with fun loving Marty and his band, "The Fabulous Superlatives" lived up to their name. They can play it all, bluegrass, rockabilly and especially traditional country. There was a great Gospel number as well, showing that this band can do it all.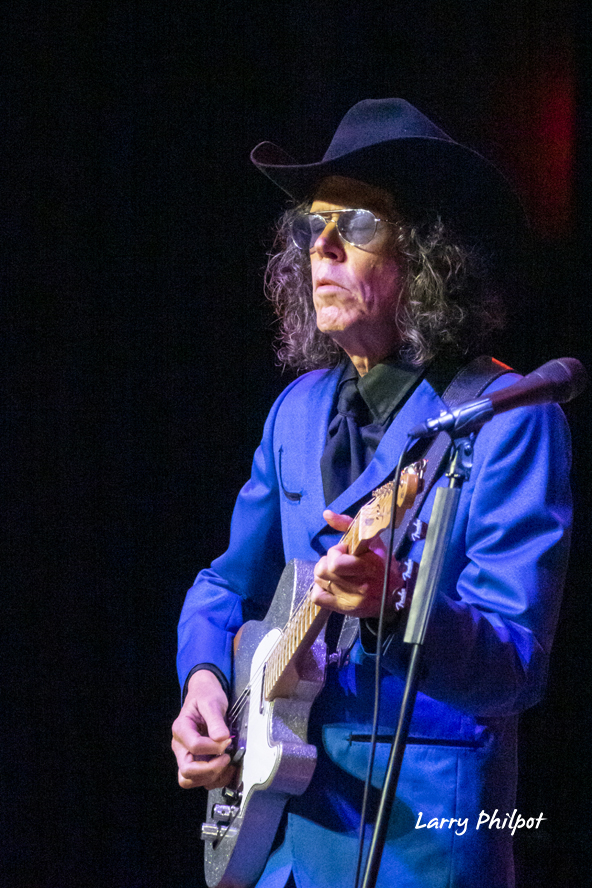 There were songs of fun, of heartbreak, and gospel music. This reviewer had never seen Marty Stuart except for a brief appearance commemorating the release of the Johnny Cash stamp by the US Postal Service years ago. Stuart was a good friend of Johnny Cash, and he owns lots of Cash memorabilia. This writer also remembers a documentary of the late King of Rock and Roll, Elvis Presley, where Stuart had a long interview, and talked of country music performers' long history of popping pills.

Stuart knows everyone and has seen it all. An accomplished photographer and collector, Stuart loaned some of his vast collection of memorabilia and artifacts to Elvis's Graceland in June 2018 for a new exhibit that was called "Hillbilly Rock."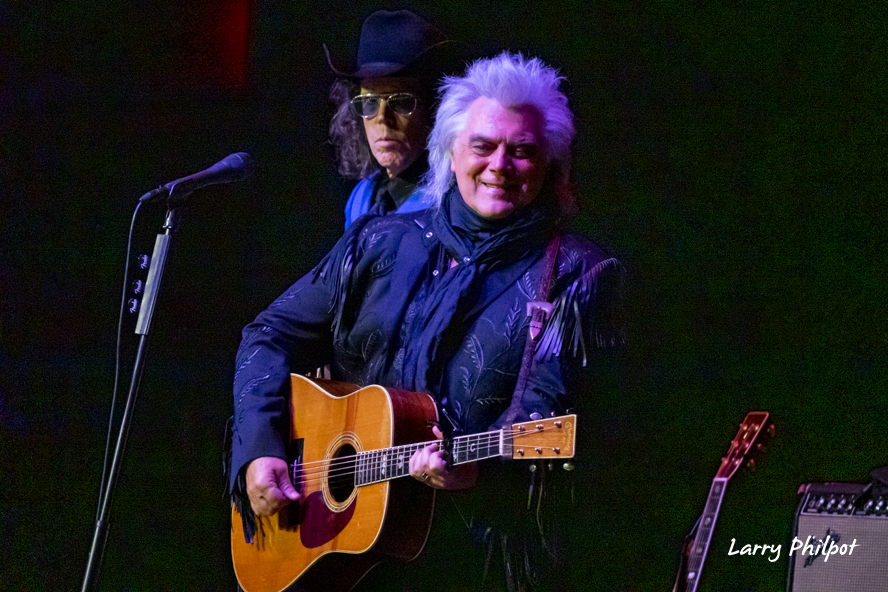 One major thing that made this show so uniquely special was that Stuart knows the territory. He knows the people and the history of Brown County, and even joked about the former "Little Nashville Opry"– formerly located just down the street, which was mysteriously destroyed by fire in 2009. According to the local newspaper, The Herald-Times, in a story from 2012, Investigators said that James Bowyer and Esther Hamilton were so deep in debt that Bowyer burned down the venue on the night of Sept 19, 2009 to collect the $3 Million in insurance money to cover their losses. This new venue was designed by architect and owner of the Brown County Inn to fill the void from lost tourism from the destroyed old Opry and only seats 2,017 people, ensuring an intimate show but with great acoustics and lighting suitable for television. The facility is owned by Brown County.

Stuart and his powerhouse band performed and laughed their way through the two hour set, that started out strong on performance and then Marty captivated the audience with his storytelling ability.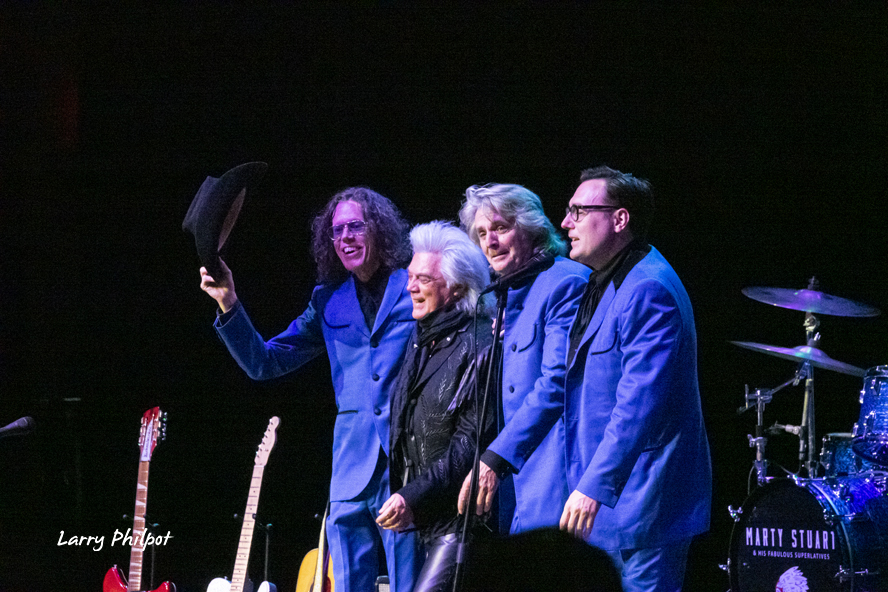 It's difficult to pick a highlight, because every song was great, including a cover of Waylon Jennings' "I've always been Crazy", but one particular one is posted here, with a guest appearance by another country legend, Travis Tritt from 1991.
The full list of songs is below, on a snapshot from one of the set lists from the stage. All photos are by Larry Philpot, who thought it would be a soundboard shoot and brought the wrong gear. Photos are from the pit, shot with a point and shoot, apologies to Marty and the band.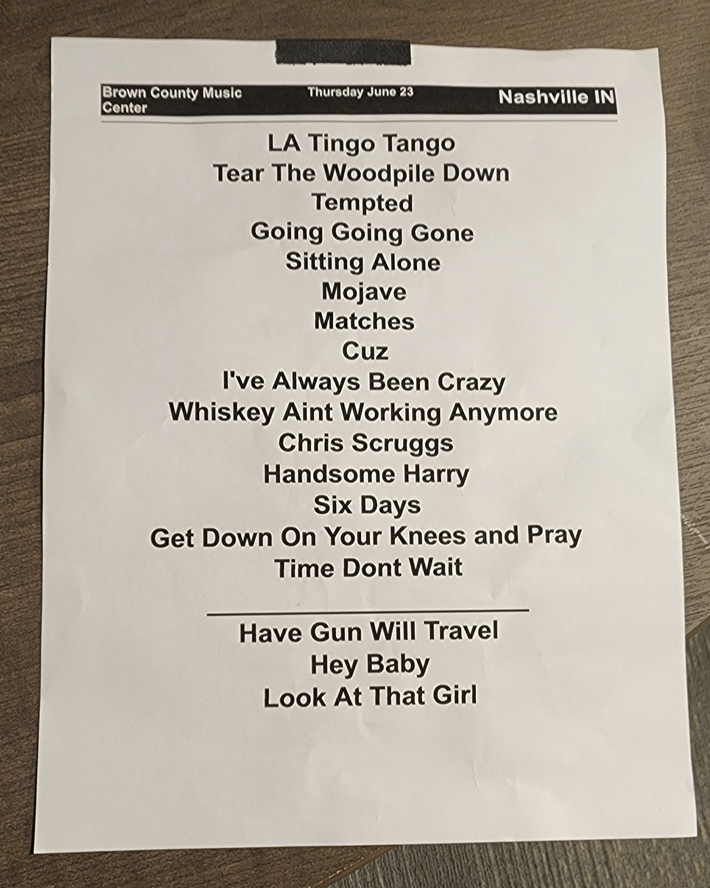 For more on Marty Stuart and his Fabulous Superlatives, the press release is below that will have much more in depth information about his band, his incredible private collectiion of memorabilia and just a handful of career highlights.
Press Release for this tour:
With legends like George Jones, Johnny Cash and Merle Haggard all passed on, country music purists often echo the question Jones himself asked: "Who's going to fill their shoes?" The answer, in part, is Marty Stuart. While he's too gracious to admit it himself, the Grammy-winning singer, songwriter and musician is living, breathing country music history. He's played alongside the masters, from Cash to Lester Flatt, who discovered him; been a worldwide ambassador for Nashville, Bakersfield and points in between; and safeguarded country's most valuable traditions and physical artifacts. Including its literal shoes: Stuart counts the brogan of Carter Family patriarch A.P. Carter and an assortment of Cash's black boots among his vast collection of memorabilia. But most importantly, Stuart continues to record and release keenly relevant music, records that honor country's rich legacy while advancing it into the future.
Way Out West, his 18th studio album, hits both of those marks. Produced by Mike Campbell (of Tom Petty and the Heartbreakers), the album is a cinematic tour-de-force, an exhilarating musical journey through the California desert that solidifies Stuart as a truly visionary artist.
Opening with a Native American prayer, a nod to Stuart's affinity for the indigenous people, particularly the Lakota, Way Out West transports the listener to the lonely but magical American West. It is, in its own way, musical peyote. "If you go and sit by yourself in the middle of the Mojave Desert at sundown and you're still the same person the next morning when the sun comes up, I'd be greatly surprised," says Stuart. "It is that spirit world of the West that enchants me."
Specifically the promised land of California. Growing up in Philadelphia, Mississippi, Stuart was taken by the mystique of the Golden State: the culture, the movies and especially the music. "Everything that came out of California captivated my kid mind in Mississippi," he says. "It seemed like a fantasy land. Way Out West is a love letter to that. This is a California record, and I knew that when I emerged from the studio at night, I wanted to see palm trees and breathe that desert air."
Listeners too can feel the warmth of those Santa Ana winds over the album's 15 tracks, a collection of newly written originals, instrumentals and rare covers like the Benny Goodman-penned "Air Mail Special," and "Lost on the Desert," once recorded by Johnny Cash.
When it comes to transforming country songs into tangible experience, Stuart has a secret weapon: the Fabulous Superlatives. Made up of guitarist Kenny Vaughan, drummer Harry Stinson and new member, bassist Chris Scruggs, the Superlatives are an extension of Stuart himself. "The Superlatives are missionaries, they're fighting partners. They're my Buckaroos, my Tennessee Three, my Strangers. They're my legacy band and have been since Day One," says Stuart. Along with the playing of Mike Campbell, who contributed guitar, B-3 organ and piano, the Fabulous Superlatives are all over Way Out West and ensure that the mystical detours Stuart explores always remain of the moment. As Stuart himself will tell you, he often ventures off the reservation – in a way, his entire career has been "way out west." While other artists chased popular trends in the name of radio play, he formed complete bodies of work, not unlike the greats he idolized. Way Out West is just the latest embodiment of that creative mission.
"I would play this record for Hank Williams, Merle Haggard or Ernest Hemingway and never bat an eye," says Stuart. "There's something in there that would entertain each of them." But Stuart also made Way Out West for those who come after. As he sees it, there is no greater responsibility in music than to share what you've learned. "Lester Flatt saw something in me and gave me his wisdom, wit and music. Johnny Cash was my best friend. But all of that doesn't come for free. The job is to pass it along," says Stuart, stretching out his arms. "That's the way it's supposed to be in country music." With Way Out West, Stuart holds up his end of the deal.