CHARLES BRADLEY Soul of America
 Feed Your Soul w/ Charles Bradley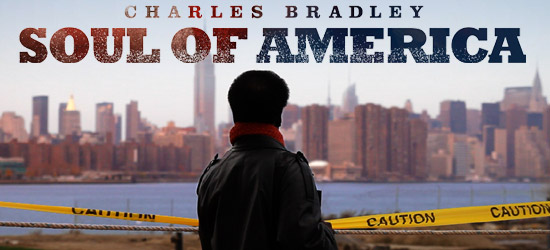 On this 4th of July weekend, instead of watching Tom Cruise battling in Vietnam or battling mummies, try Soul of America, a documentary by Poull Brien charting the extraordinary rise of then 62-year-old aspiring soul singer Charles Bradley in the weeks leading up to the release of his debut album "No Time for Dreaming." The masters of modern soul, Daptone & Dunham Records, can be credited for bringing this gem to the attention of music lovers, and the film catches a sweet moment of time that cannot be repeated. Charles is touring this summer with his 3rd release, "Changes," and his incredible, talented band, The Extraordinaires. Mark this act as a "MUST SEE" this season.
Charles Bradley is instantly likable. Despite being abandoned as a child, a period of homelessness, the devastating loss of his brother, and constant poverty, he never forgets the concept of joy and gratitude during this intimate look at his life. His smile lights a room and the viewer feels his genuineness and humility radiating through the screen.
The movie chronicles his journey from living in the projects, working as "Black Velvet," a James Brown impersonator, caring for his elderly mother, and eventually his debut on stage as himself. Bradley struggles with his own image and identity after performing for so many years as the "Godfather of Soul," but he's come into his own and it's extraordinary. He is not a cut-out James Brown, but he is his own man with a deeply moving message and a powerful artist in his own right.
Soul of America drops the James Brown cape and lets us discover Charles Bradley. It allows viewers a glimpse into what his life is like and what his dreams are made of. It's a simple story about a singer working diligently and struggling to make it big against horrible odds. What makes the movie outstanding is Charles Bradley. He's the real deal, and it's amazing to watch him find his own voice.  He's a man with a heart full of love but not immune to pain.
Charles isn't a polished pop act or an American Idol wannabe; he's a man in his 60's who has had a hard life but hasn't given up on his dream. Bradley has the talent and drive to back it up. The movie offers insight into how hard things are for some in America, and when Charles sings "why is it so hard to make it in America," you can't help but be moved.
In the last half decade, Bradley has become known for his emotional and riveting live show. He's taken his show to venues and festivals across the globe including Coachella, Glastonbury and Primavera Sound. Bradley's also performed on many famed stages including NYC's Beacon Theatre and the Apollo Theater—the same place his sister took him to see his idol James Brown perform when he was just 14 years old. With "Changes," funk & soul powerhouse Charles Bradley brings music fans of all ages another unforgettable set of songs and will continue to bring his live show to stages around the world.
POST SCRIPT: The Screaming Eagle is soaring on another level today. Sadly, Mr. Bradley passed away on September 23rd, 2017 after valiantly battling cancer for the past year. We wish his friends, family, and fans our deepest sympathies and will miss his generous and kind spirit enormously. Rest Easy.
Filmmaker Poull Brien
Director: Poull Brien
Producer: Alexander Brough
Director of photography: Stuart McCardle
Music: Charles Bradley and the Menahan Street Band
Editors: Adriana Pacheco, Stuart McCardle, Poull Brien
Sales: Kevin Iwashina, Preferred Content
No rating, 74 minutes