Barry Manilow in Louisville, Review and Photos
If you are a fan of pop music, you "know" Barry Manilow. The singer-songwriter has been in the music industry for over five decades, and has sold more than 80 million records worldwide. He is best known for his hits such as "Mandy", "Copacabana", "Can't Smile Without You" and "I Write the Songs".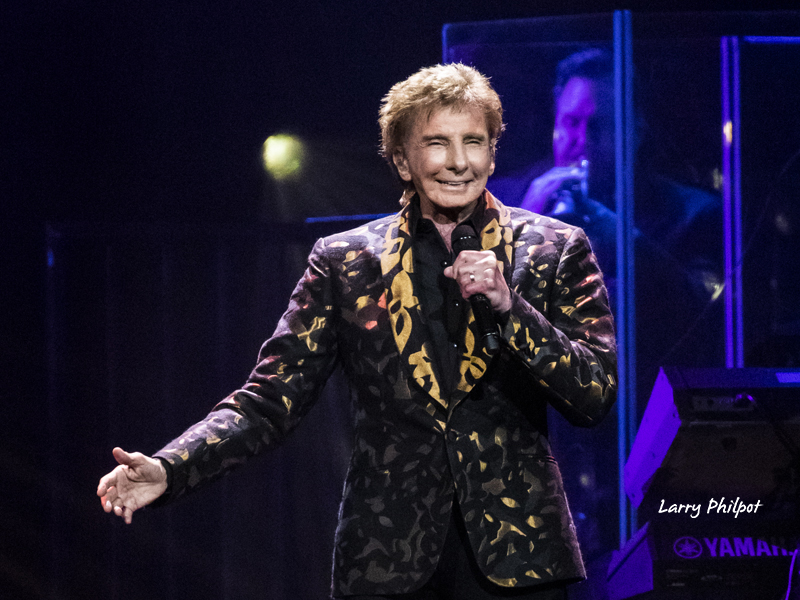 This year, Manilow embarked on his 2023 tour, which he said would be his last. He performed in various cities across the US, including last night in Louisville, Kentucky, where I had the privilege of attending his show. It was a night to remember, as Manilow delivered a spectacular performance that showcased his talent, charisma and passion.
The show started with a video montage of Manilow's career highlights, from his early days as a jingle writer to his recent induction into the Songwriters Hall of Fame. The crowd cheered as Manilow appeared on stage, and greeted the audience with his trademark smile and said, "Hello, Louisville! Are you ready to have some fun?"
"It's been eight years since I was last in Louisville. We have a lot of time to make up for," the Grammy, Tony, and Emmy Award-winning music icon explained at the end of his opening song, "It's a Miracle.". The audience sang along to every word, as Manilow played the piano and interacted with the band and the three backup singers.
The show continued with more of Manilow's classics, such as "Daybreak", "Somewhere in the Night" and "Can't smile without you". He then introduced his next song, "Looks Like We Made It", by saying, "This is a song about two people who went their separate ways, but they still love each other. Do you know anyone like that?" The crowd responded with cheers and applause, as Manilow sang the ballad with emotion and sincerity.
Throughout the show, Manilow charmed the audience with his friendly banter and humor, especially pausing during a lyric of "Weekend in New England" when he asked, "When can I touch you?" to the crowd's delight.
Near midway through his show, Manilow turned the spotlight on Doug Elmore, a Floyd Central High School music teacher seated near the stage.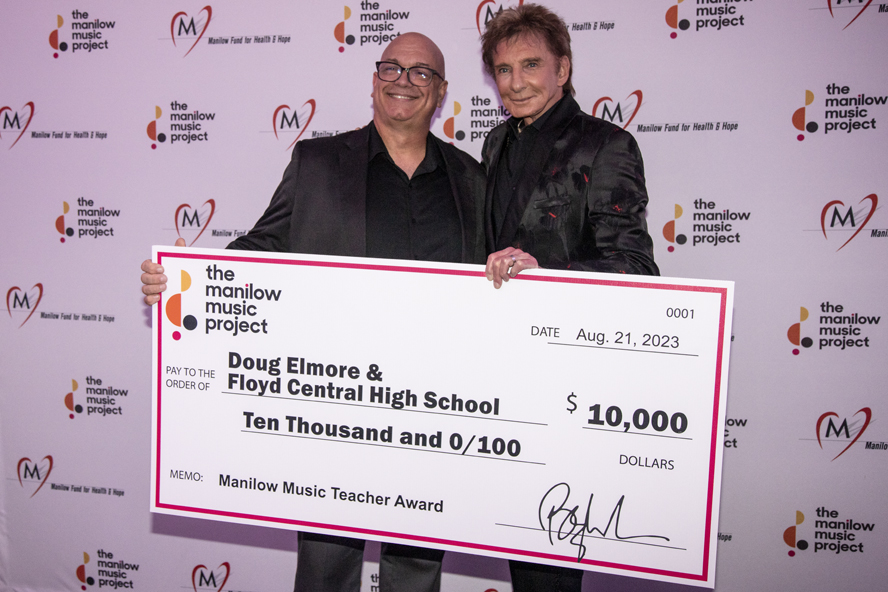 As the local winner of the Barry Manilow Music Project contest, Elmore was chosen from 100 nominees to receive $10,000 to buy music instruments for his school's program.
Half and hour before the show, Manilow met with Elmore backstage to present him with the award."The idea that an artist the magnitude of Barry Manilow would want to spotlight music education in every city on his tour is enormously meaningful," Elmore told the small media group in the room. "I am humbled, and very grateful to Barry."
After wild applause for Elmore from the audience, Manilow told the crowd "I think music class can change a kid's life. It certainly changed mine." "One can go from misfit, to a musician."
The show then resumed with another highlight, when Manilow performed and talked about "Mandy" with half of it from a 1975 video of an appearance on "Midnight Special", and performing the second half live, transforming from the video background without missing a beat. Then, his signature song, "I Write the Songs". He told the audience that he did not actually write the song, but he felt a connection to it when he first heard it. He said, "This song is not about me. It's about music. It's about how music can touch our lives and make us feel things we can't explain." He then sang the song with passion and conviction, as the audience waved their arms and swayed to the music.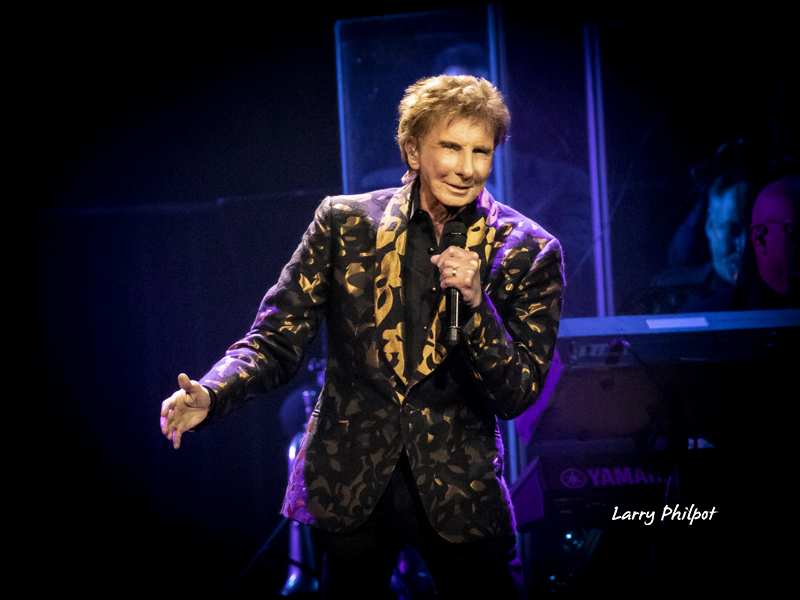 The show ended with a standing ovation from the crowd, as Manilow thanked them for their support and love. He said, "You have been wonderful tonight. Thank you for being here with me. I love you all." He then performed a rousing rendition of "Copacabana". The audience joined him in singing the chorus of both songs, creating a festive atmosphere.
As I left the venue, I felt a sense of gratitude and admiration for Manilow. He is truly a legend who has given us so much joy and inspiration through his music. His 2023 tour was a fitting farewell to his fans, who will always remember him as the man who writes the songs that make the whole world sing.
Here is the playlist from his Louisville show, and a photo gallery below that:
It's a Miracle
Daybreak
Somewhere in the Night
Can't Smile Without You
Looks Like We Made It
This One's for You
New York City Rhythm
Even Now
The Old Songs / Ready to Take a Chance Again
Jump Shout Boogie
Weekend in New England
Dancing in the Aisles / Dancing in the Street / Let's Hang On
If Tomorrow Never Comes (Garth Brooks cover)
All the Time
Could It Be Magic
I Made It Through the Rain
Mandy
I Write the Songs
Copacabana (at the Copa) / It's a Miracle (Reprise) / I Write the Songs (Reprise)