Husband/Wife Garage Band Duo Lemon Knife Back With New Album, 'Ignite'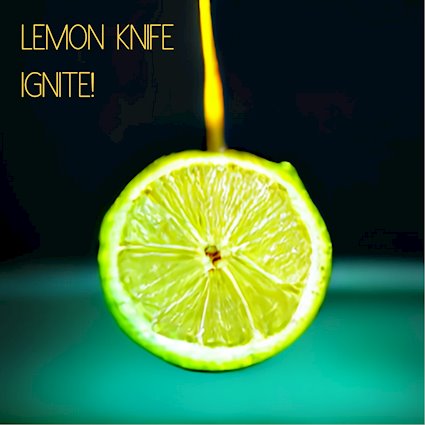 Lemon Knife are a husband/wife duo who, since turning their bass-and-feedback rock nerd proclivities into an edgy garage band in 2017, have become a mainstay in their hometown of Chicago and beyond. With sort of a reverse White Stripes vibe (wife Mia Blixt-Shehan on guitars and vocals and husband John Retterer-Moore on drums and the punkier vocals), Lemon Knife has taken rock back down to brass tacks. Their new album, Ignite! features the raw intent of 80s and 90s punk, riot grrl, prog rock and distorto-punk all in catchy, nerd rock style.
Now four albums and three EPs into their journey of revitalizing riffy rock with distorted bass as a lead instrument, Lemon Knife's style is a contradiction in terms of the highest order. Lashings of Queens of the Stone Age, Bikini Kill, B-52s, They Might Be Giants, Devo and even Warren Zevon, the duo have played all over the Chicago area at some famous venues but their high-energy, quirky and always yellow self-styled shows have been touted by fans as some of the most fun of all. 
There's a lyrical playfulness to Lemon Knife as well. With songs about shark attacks, apocalyptic astronomy, and unsung historical figures, they border on the philosophical quite often and bring something more than the high energy of garage punk many fans might expect.
Lemon Knife's latest album, Ignite!, was put together as a commemoration to their wedding anniversary and incorporates even more styles into its eleven tracks. Here, Blixt-Shehan really opens up her bass to musicality, taking cues from the likes Peter Hook in their homage to New Order, "Extremely Bizarre Love Triangle" or going to full jazzy walking bass riffs in "Kirkwald In a Day." Meanwhile Retterer-Moore goes much punkier with his punk chants. In tracks like "Grow Old In Maine" and "Haircut," he makes it clear the golden age of punk is still alive and thriving, channeling the likes of Henry Rollins, Milo Auckerman (The Descendents), John Joseph (The Cro-Mags) and early Mike Ness (Social Distortion) to drive home the ripping punk sound in these tracks.
Lemon Knife has seemingly endless musical influences and definitely endless ideas for unique, articulate progressive punk. This new album can only serve to "ignite" their beloved punk scene even further.
Musician Names/Instruments:
John Retterer-Moore: Drums, punk vocals, lyrics
Mia Blixt-Shehan: Bass, guitar, clean vocals
Producer Name(s): CJ Johnson
Tracklist: 
Ignite!
Astronomer's Regret 
Kirkwald in a Day
Grow Old in Maine
Chip On Your Shoulder (Size of a Boulder)
Quarterly Pursuit
The Harbor
Extremely Bizarre Love Triangle
Haircut
Meet Me in the Mountains
Escape Plan
Websites: 
Official Website: lemonknife.com
Facebook: https://www.facebook.com/lemonknife
Instagram: @lemonknifeofficial
Spotify: https://open.spotify.com/artist/2idkk1AQNbcJE4HPUrBUDC
Bandcamp: https://lemonknife.bandcamp.com/
Soundcloud: N/A
Youtube Channel: https://www.youtube.com/@lemonknife2498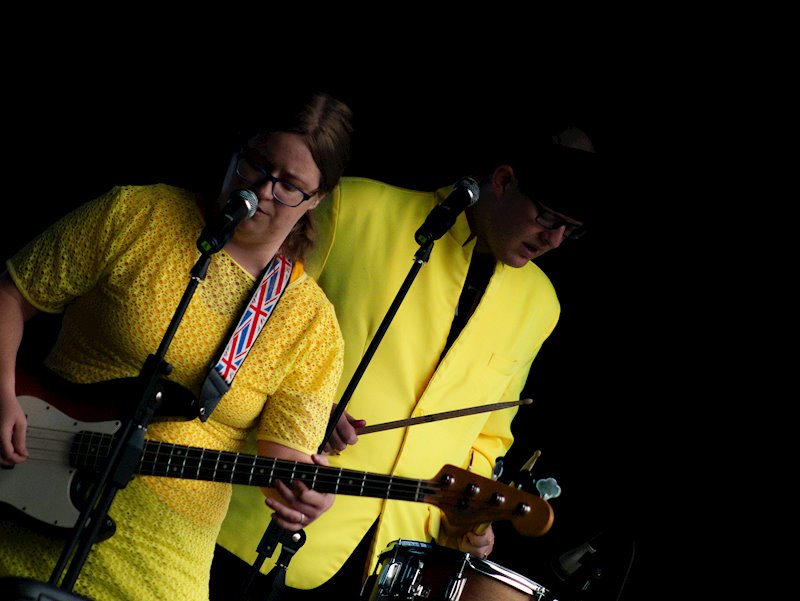 Artist Biography:
Lemon Knife is a Chicago-based hard rock duo with punk edges, classic rock sensibilities, and literate lyrics on a wide variety of topics. Formed by kindred nerds Mia Blixt-Shehan (bass, vocals, guitar) and John Retterer-Moore (drums, vocals, lyrics) in the spring of 2017, they have since played 50+ shows at a variety of Chicago venues, including Beat Kitchen, Cubby Bear, and Reggie's, alongside several memorable DIY shows. Their tracks have received radio play by stations such as WKQX's Demo 312, WIIT, and WRSE, the band has appeared for live sessions on WHPK and WZRD, and their song Cold Burn has received 2000+ streams on Spotify after resonating with the asexual community.
They released their first album, Songs About Water and Death, in April 2018, their second album, I Know That This is Vitriol, in December 2019, and their third album, Endlessly Expanding, in May 2021, which also saw the release of their first music video for the song Two Atomic Heroes. Their latest album, Ignite!, which was released in January 2023, is their most sonically varied to date, including the dancey garage punk of the title track, the haunting folk of Kirkwald in a Day, and the southern rock of Grow Old in Maine.