YES brings Classic Tales of YES @ the Brown County Music Center
ON SALE DETAILS FOR NEW SHOW JUST ANNOUNCED
YES
ANNOUNCE THE NEXT U.S. TOUR OF THEIR ONGOING CONCERT SERIES "CLASSIC TALES OF YES"

FOLLOW-UP TO LAST YEAR'S SOLD-OUT U.S. TOUR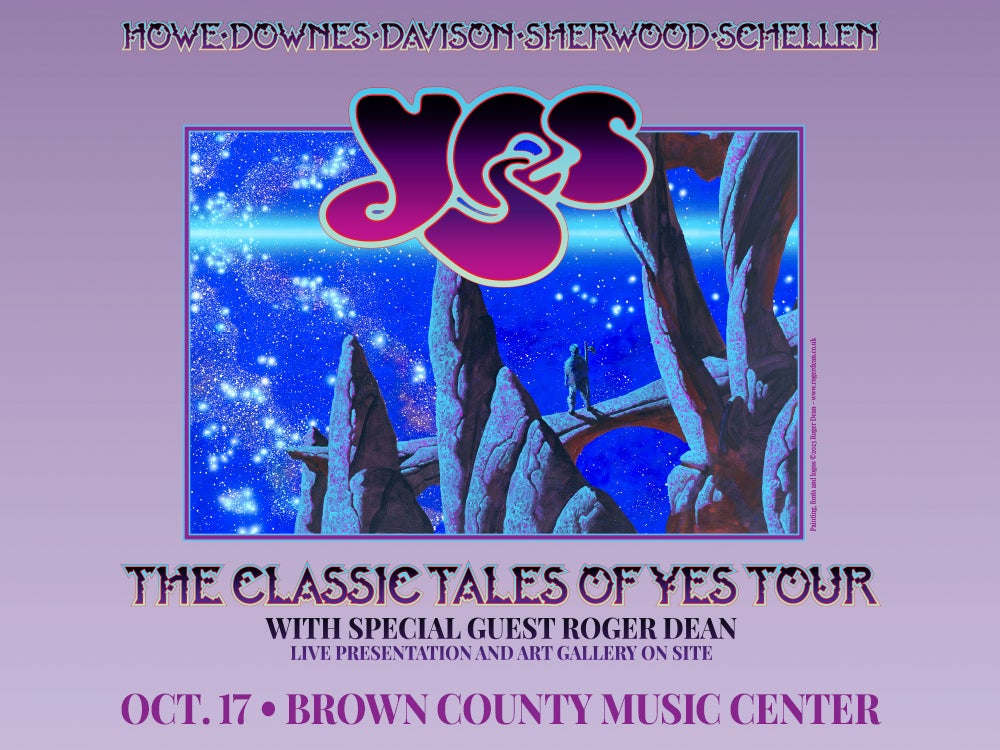 Photo Credit: Gottlieb Bros.
 
BROWN COUNTY MUSIC CENTER
NASHVILLE, INDIANA
TICKETS ON SALE THIS FRIDAY , JULY 21 2023 @ 10 AM
TUESDAY, OCTOBER 17, 2023
 Nashville, Ind. (July 18, 2023) – Following last year's sold-out U.S. tour, YES, who are Steve Howe (guitars, vocals), Geoff Downes (keyboards), Jon Davison (vocals, acoustic guitar), Billy Sherwood (bass guitar, vocals), and Jay Schellen (drums), have announced their "Classic Tales Of Yes" tour in the U.S., which will make a stop in Nashville, Ind., at the Brown County Music Center on Tuesday, October 17. The tour—which is the latest presentation of their ongoing concert series illuminating their classic music—will include many iconic tracks from the influential and pioneering Rock & Roll Hall of Fame inductees' catalog covering 50-plus years as well as music from their acclaimed new album MIRROR TO THE SKY (released May 19 on InsideOutMusic/Sony Music).

Tickets go on sale this Friday, July 21 at 10 a.m. and will be available at www.browncountymusiccenter.com, www.ticketmaster.com, and at the venue box office (open Wednesdays through Fridays from 10 a.m. to 5 p.m. via outdoor ticketing windows and phone sales at (812) 988-5323). The box office is now cashless, and accepts debit and credit cards including Visa, Mastercard, Discover and American Express. Any box office related inquiries beyond purchasing tickets for an upcoming show should be directed to boxoffice@browncountymusiccenter.com
Looking forward to the "Classic Tales of Yes" tour, STEVE HOWE said: "We're putting together a great setlist covering the length and breadth of Yes' career."
"As always, we are committed to pushing new boundaries and are very excited to be performing another chapter in the rich legacy of the band," added GEOFF DOWNES.
The evening will begin with an on-site presentation by world-renowned English artist and designer Roger Dean, whose masterful artwork of striking other-worldly landscapes has graced classic album covers and posters, most prominently by YES and Asia. Every show will feature a Roger Dean gallery in the venue's reception/foyer area. His work—which also appears on the cover of MIRROR TO THE SKY—has sold more than one hundred million copies worldwide.
MIRROR TO THE SKY features not one, but four tracks clocking in at over eight minutes, with the sweeping and cinematic title track coming in just shy of fourteen minutes. What's more, the tracks, like Yes' best, take the listener on a wide dynamically ranging journey of soundscapes which also showcase Steve Howe's dazzling guitars, Jon Davison's angelic, crystalline vocals, Billy Sherwood's deftly dancing bass, keyboard wizard Geoff Downes' impeccable sounds, exquisite melodies and fills, and Jay Schellen's masterfully controlled explosions, on drums. Jay Schellen, who has been touring with the band since 2016 as an additional drummer, was hand-picked to step into his mentor and friend Alan White role when White sadly passed away in 2022.
These are the videos released from MIRROR TO THE SKY:"Cut From The Stars" HERE
Cut From The Stars" HERE
"All Connected" HERE
"Circles of Time" HERE
Ultimate Classic Rock raved that "Mirror in the Sky breezes from one musical highlight to the next so deftly that you're wanting more." (May 17). Glide Magazine observed that "Mirror to the Sky" succeeds at proving the idea that Yes music will carry on long after the original members pass in a very special way. As the producer of this twenty-third studio album, [Steve] Howe has stepped in and helped create a soundscape in the vein of their classic material." (May 18). Guitar World noted that "There's a lot of classic prog keyboard and guitar interplay across "Cut From The Stars,' but there's lovely stuff from about 4.30 where Steve Howe and Geoff Downes exchange melodic pot shots." (3/16).
Photo Credit: Gottlieb Bros.
YES ONLINE:
www.youtube.com/user/yesofficial
www.soundcloud.com/yesofficial
INSIDEOUTMUSIC ONLINE:
www.youtube.com/InsideOutMusicTV
www.facebook.com/InsideOutMusic

About the Brown County Music Center: Nestled on the banks of Salt Creek and located less than one mile from the largest state park in Indiana and the Town of Nashville, the Brown County Music Center is a visual and auditory masterpiece. Since its opening in August 2019, the 2,000-seat live performance venue has hosted artists spanning world-class rock, blues, country, pop, jazz, oldies, throwback artists, and more, offering an incredibly intimate experience for each show with the farthest seat from the stage only 106 feet away. Nationally renowned performers have included Vince Gill, Tanya Tucker, The Beach Boys, Jason Bonham, Graham Nash, Old Crow Medicine Show, The Reverend Peyton's Big Damn Band, Ben Folds, Emmylou Harris, Jamey Johnson, America, Pat Benatar and Neil Giraldo, Gladys Knight, Air Supply, YES, Sara Evans and many more. Please check www.browncountymusiccenter.com for the latest show updates and follow us on social media: Facebook | Instagram | Twitter
About Brown County, Ind.: No matter what you're looking for, escape comes naturally in Brown County. Eclectic boutiques and galleries, breathtaking scenery, welcoming accommodations, and endless outdoor adventures await in one of America's original artists' colonies. From art to the great outdoors, there's something for everyone to enjoy, and for most, it's only a short drive away. Unplug from daily life and reconnect with one another as you experience the rustic beauty and artisanal charm of Brown County. Brown County is a place for many diverse tastes and interests. Plan your escape today! You'll be glad you did.