Peter Frampton Rocks the House at the PNC Pavilion in Cincinnati
Peter Frampton is a living legend, and he proved it once again at his electrifying show at the PNC Pavilion in Cincinnati Ohio, on June 22, 2023 to a sold out show . The guitar hero, who announced his surprise return to the road for the "Never Say Never" tour earlier this year, delivered a two-hour set of classic hits, deep cuts and dazzling solos that left the audience breathless.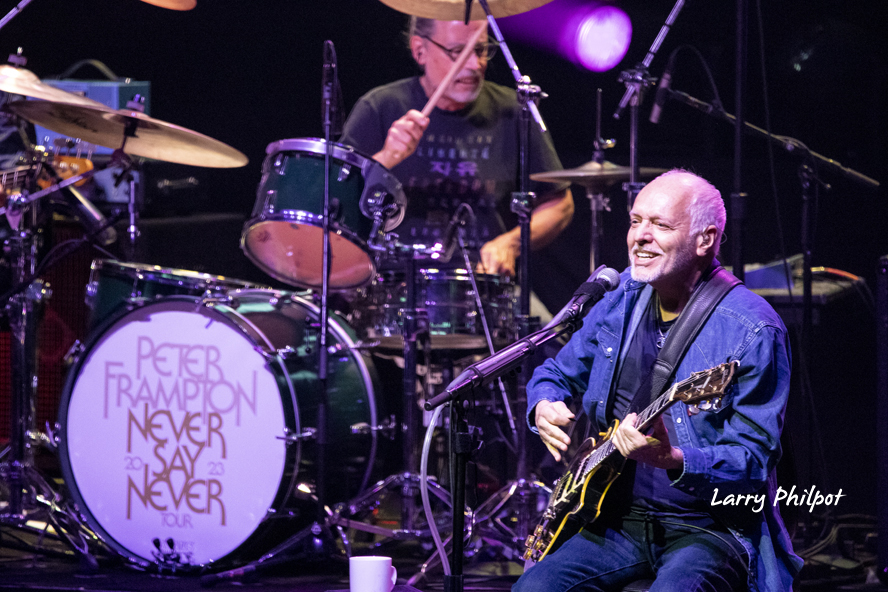 Frampton, who was diagnosed with a degenerative muscle disease in 2019, showed no signs of slowing down or losing his touch. He walked onstage with a cane, seated himself and traded the cane for his guitar. He played with passion, precision and soul, making every note count. He also interacted with the crowd, cracking jokes, telling stories and expressing his gratitude for their support. He explained that after his diagnosis, he just quit, but during a TV special late last year, he discovered he could still play. In January, he told his manager to put together a tour, and even though it takes a year to plan a tour, here we are!
The show opened with "Lying", a funky rocker from his 1986 comeback record Premonition. Frampton then took the fans on a journey through his career, spanning from his early days with Humble Pie to his recent instrumental album Frampton Forgets The Words.
Some of the highlights included "Show Me The Way", "Do You Feel Like We Do" and "I'm In You", which featured his trademark talk box effects; "Lines On My Face" and "All I Want To Be (Is By Your Side)", which showcased his emotive vocals and melodic sensibility; and "Black Hole Sun" and "Isn't It A Pity", which demonstrated his versatility and reverence for his influences.
Frampton has always been a super serious musician, and expects the audience to be serious too. He once took a cellphone from an audience member who was taking selfies with his back to the stage in the front row in Carmel, Indiana, and threw the phone backstage before continuing his show.
To read about that incident, CLICK HERE
Now, Frampton just seems mellow, and grateful to be performing again, and he's just having fun. The audience loved him.
Frampton also paid tribute to his late friend George Harrison, whom he called "the reason I picked up the guitar", by playing a stunning rendition of "While My Guitar Gently Weeps". He dedicated the song to Harrison's widow Olivia and son Dhani, although they weren't in attendance.
The show ended with a standing ovation and a heartfelt speech from Frampton, who thanked the fans for sticking with him through thick and thin. He said he was feeling strong and hopeful, and that he wanted to keep playing live as long as he could. He also hinted at a possible new album in the works.
Frampton's Never Say Never tour is a testament to his resilience, talent and love for music. It's also a rare opportunity to see one of the greatest guitarists of all time in action. Don't miss it if you can.
For more information on Peter Frampton's future tour dates, visit peterframpton.com.