Reviewed: Steve Earle in Nashville, Indiana
Steve Earle is one of the most influential and respected singer-songwriters of his generation, with a career spanning over four decades and 21 studio albums. He is also a master storyteller, who can captivate an audience with his tales of love, loss, politics and redemption. On August 18, 2023, I had the privilege of witnessing his solo acoustic performance at the Brown County Music Center in Nashville, Indiana, as part of his Alone Again Tour.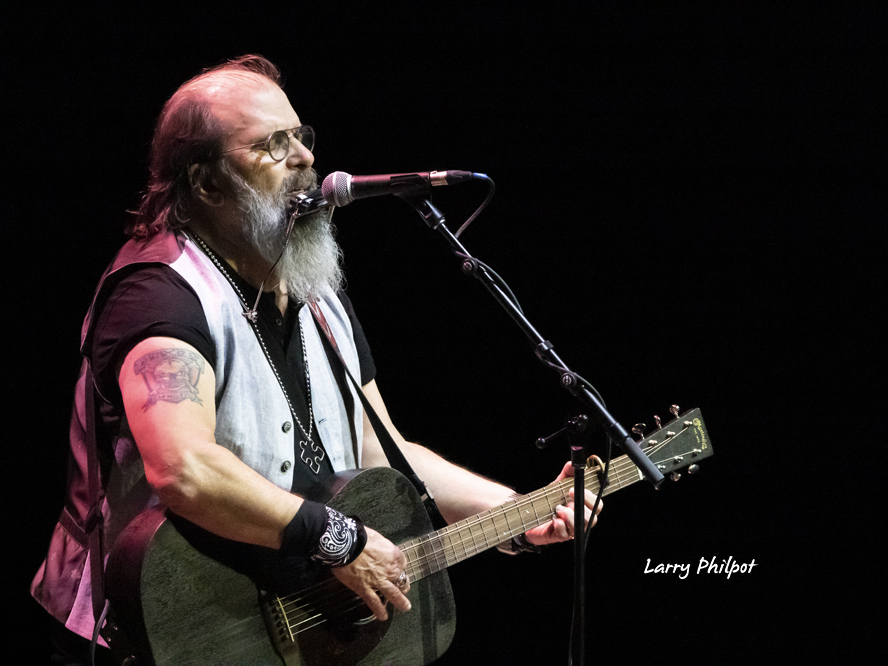 The show started with a special guest appearance by Zandi Holup, a young and talented folk singer from Nashville, Tennessee. She charmed the crowd with her sweet voice and heartfelt songs, such as "River Song" and "Wildflower". She sang one heartbreaking song in particular about an 8 year old girl waiting for her father to take her to the 3rd grade Father/Daughter dance, but he didn't show up. The song was "The things you forget are the things I'll always remember." I'm not sure if this was was first hand experience, or not, but she said her Father was in the audience, so it probably was written about one of her friends. The review of her set is HERE.
The legendary Earle took the stage shortly before 9 pm, armed with nothing but his guitar and harmonica. He greeted the audience with a warm smile and a voice stronger than 3 fingers of bourbon, and launched into a mix of old and new songs, spanning different genres and themes. He played some of his most popular hits, such as "Guitar Town", "Someday", "Galway Girl" and "The Devil's Right Hand". He also introduced some songs from his latest album, "J.T.", a tribute to his late son Justin Townes Earle, who passed away in 2020. He dedicated "Last Words" to him, a poignant song that recounts their final conversation. He also played some covers of his son's songs, such as "Harlem River Blues" and "Far Away In Another Town", and which showcased their similarities and differences as artists and as father and son.
Earle was not only a great musician, but also a great conversationalist. He shared stories and anecdotes between songs, giving insights into his life and career. He talked about his influences, such as Townes Van Zandt and Guy Clark, his struggles with addiction and recovery, his political views and activism, and his love for literature and history. He also cracked jokes and made fun of himself, displaying a self-deprecating humor that contrasted with his serious songs. He was engaging and charismatic, making the audience feel like they were part of a intimate gathering of friends. The small, 2000 seat arena was barely over half full, but the venue lends itself well to intimate performance.
Some of the highlights of the show included:
His opening song, If I Should Fall From Grace With God, a cover of the Pogues' classic that set the tone for the night.
His rendition of The Devil's Right Hand, one of his most popular songs that tells the story of a man's fascination with guns and violence.
His tribute to his mentor and friend, Townes Van Zandt, with a beautiful version of My Old Friend the Blues.
His performance of Someday, a song from his debut album that expresses his hopes and dreams of escaping his small town life.
His rocking version of Guitar Town, his signature song that celebrates his love for music and the road.
His confession of I Ain't Ever Satisfied, a song from his second album that reflects his restless and rebellious spirit.
His delivery of Taneytown, a song from his El Corazón album that tells the tragic story of a young black man who kills a white man in self-defense in a racist town.
His dedication of Now She's Gone to his ex-wife and fellow singer-songwriter Allison Moorer, whom he divorced in 2015 after 12 years of marriage.
His farewell to his son Justin Townes Earle with Harlem River Blues, a song that Justin wrote and recorded before his death.
His finale of Copperhead Road, performed on a mandolin, his most famous song that tells the saga of a family of moonshiners and drug dealers.
The show lasted for almost two hours, but it felt like it flew by in an instant. Earle thanked the audience throughout the show for their support and appreciation.
Steve Earle's 2023 Solo Tour in Nashville, Indiana was one of the best concerts I have ever attended. It was a showcase of his musical talent, his lyrical genius, his personal charm and his social conscience. It was also a tribute to his son, his heroes and his fans. It was an unforgettable experience that I will cherish for a long time. The intimate, 2000 seat indoor venue lends itself to the feel of a small gathering of friends, and their concert lineup has been some of the greatest names in the business.