Matchbox 20 burns down the house at Ruoff Music Center in Noblesville Indiana
Matchbox 20, the American rock band from Orlando, Florida, returned to the stage after six years of hiatus with their 2023 Slow Dream Tour. The band, consisting of Rob Thomas (lead vocals, guitar, keyboards), Kyle Cook (lead guitar, vocals), Brian Yale (bass), and Paul Doucette (drums, rhythm guitar, vocals), performed at the Ruoff Music Center in Noblesville, Indiana, on August 5th, 2023. The concert was part of their 53-date tour across North America, which kicked off on May 16th in Vancouver, Canada.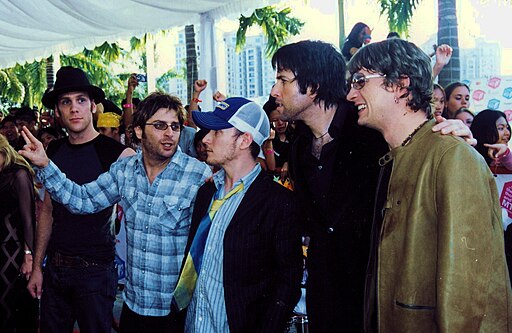 The band delivered a nostalgic and wildly energetic show that spanned their two-decade career.
The first rule of Rock is to Know your audience, and last night's Matchbox 20 show was chapter one of that textbook. Lead frontman Rob Thomas opened the show at Ruoff Music Center in Noblesville by saying, "We all know the name of this venue, but tonight, what do we call it?" The audience responded with a deafening "Deer Creek", which was the name of the venue when it was built decades ago.
This was the most energetic show I've seen from an aging rock band in years, where all members look like they teach aerobic classes when they're not on tour. Over 2 and a half hours into it, Lead Guitarist Kyle Cook was still jumping and hopping around to the songs. During his solo, Kyle, who was born and went to school in nearby Franklin, Indiana thanked his fellow Hoosiers for their support, and told us, while pointing to the lower pavilion in Section A, "You know, I was a 14 year old kid sitting right there at a Metallica concert when I decided I was going to be a musician."
The next to the last show of the tour, wrapping up in Chicago, brought out a barn burner of a performance. Rob Thomas thanked the fans for holding on to tickets they bought over 3 years ago, and promised the show would be worth it, and he wasn't lying. A 23 song powerhouse set list delighted long time fans and newcomers alike. Thomas said they'd have to check, but they believed that tonight broke their all time career attendance record.
The band played a mix of old and new hits, such as "Push", "3 A.M.", "Real World", "Unwell", "If You're Gone", "Bent", "How Far We've Come", and "She's So Mean".
The band also surprised the fans with some rare gems, such as "Long Day", "Mad Season", and "Bright Lights".
Thomas showcased his vocal range and charisma throughout the show, engaging with the audience and sharing stories behind some of the songs. Cook, Yale, and Doucette provided solid support with their guitar, bass, and drum skills, as well as harmonizing with Thomas on some songs.
The opening act was Matt Nathanson, who is a very funny, and talented musician, who took the stage and introduced himself as Jakob Dylan of the Wallflowers, and his versatility as a musician started there, culminating in his biggest hit, "C'mon get higher."
Matchbox 20 proved that they are still one of the best pop rock bands in the world with their 2023 Slow Dream Tour. They delivered a memorable and satisfying show that appealed to both old and new fans alike. They showed that they have not lost their passion and talent for making music that touches people's hearts and souls. My official set list, below:
Grade: an overwhelming A+