Stephen Marley Unites with Bob Weir & Jack Johnson for New Single "Winding Roads"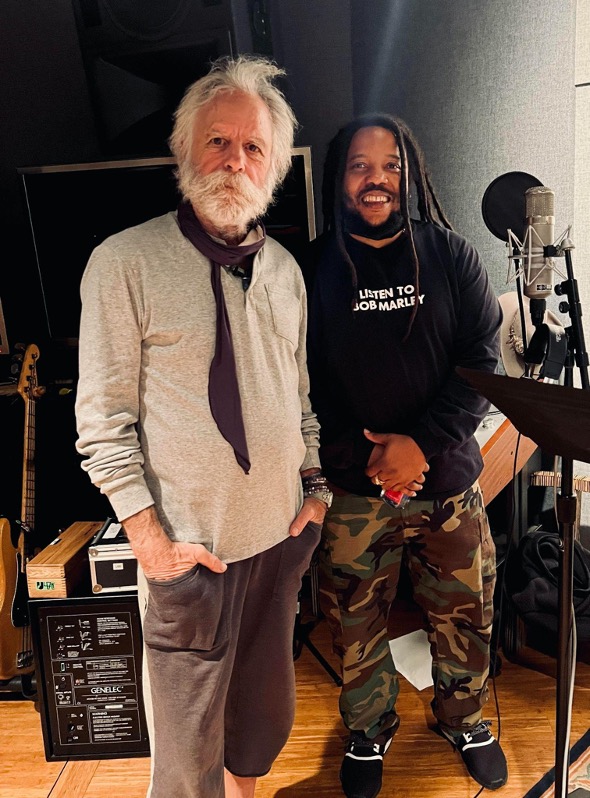 The latest single from Marley's upcoming album 'Old Soul,' which also features Eric Clapton, Ziggy Marley, Damian "Jr. Gong" Marley, and more – available now
'Old Soul' Available Digitally on Friday, September 15 via Tuff Gong Collective/UMe/Ghetto Youths International
[September 8, 2023 – Los Angeles, CA]Stephen Marley has just unveiled "Winding Roads," the latest single from his highly anticipated album Old Soul, out digitally, September 15th via Tuff Gong Collective/UMe/Ghetto Youths International. Bob Weir of the Grateful Dead and singer/songwriter Jack Johnson join Marley on the new track recorded at Bob Weir's TRI Studios with his Wolf Bros band, including Don Was and Dead & Company members Jeff Chimenti and Jay Lane. Preorder the new album and listen to "Winding Roads" now HERE.

"Winding Roads," metaphorical of life's journey, struggle, and eventual salvation,  soulfully closes out the new Old Soul LP with interlacing guitar and vocal trade-offs  from Weir, Marley and Johnson,  creating an unforgettable bluesy classic and the only song from the album recorded with a full band.
I've seen the paved highways,
But none of them is headin' my way,
How long must we drive these windy roads?
How long must we drive these windy roads?
 
You struggle so hard, oh good people,
I'll help you carry your load,
How long must we drive these windy roads?
How long must we drive these windy roads?
The release of "Winding Roads" follows two previous singles, "Old Soul" and "Cool As The Breeze." A retrospective music video for the album's title track, "Old Soul," released earlier this summer, features unseen family images and a montage of Jamaican musical heritage. A warm acoustic narrative, the song carries listeners through Stephen's evolution, intertwined with the Marley legacy. Lyrics such as "April 1972, my mom and poppa brought me through, back then I was the favorite, so they say," give a nod to his lineage and early years. Originally penned by Jamaican artist Omi, Stephen adapted the song to reflect his personal journey, suggesting a familiarity with past life experiences. Echoing his father's sentiments, Stephen's core message promotes mental freedom and unity.
His first full-length project since 2016, Old Soul comes as a complete revelation. While grounded from the road during the COVID lockdown, Stephen set up a new studio on a remote family farm in the Florida countryside, holding nightly jam sessions in a converted garage. With a stripped-down ensemble comprising binghi drums, bass, acoustic guitar, and flute, Stephen played whatever he felt like — ranging from original compositions and reggae rarities with deep personal meaning to classics recorded by Ray Charles, Frank Sinatra, and The Beatles. "Irie vibration," Stephen says of the sounds made together on the farm. The lion's share of Old Soul was recorded during these "unplugged" jam sessions.
 
Old Soul explores a musical palette that spans a variety of cultures and genres alike, with hand-selected special guests furthering the spiritual journey that encompasses the album. Stephen and his elder brother Ziggy collaborate on "There's A Reward," a heartfelt tribute to Joe Higgs, the man who mentored young Bob Marley, Peter Tosh, and Bunny Wailer when they were all aspiring singers in Trenchtown. Meanwhile, Stephen's younger brother Damian "Jr. Gong" Marley features on "Cast The First Stone," a powerful, thought-provoking tune set to an ominous groove that sounds like something from a lost spaghetti Western soundtrack.
 
Stephen enlists his old friend Buju Banton on the ska-flavored "Thanks We Get (Do Fi Dem)," a Lee "Scratch" Perry composition made famous by Junior Byles that explores the idea that no good deed goes unpunished. And Kyle McDonald of Slightly Stoopid joins on a verse on "Standing In Love," a beautiful ballad that hearkens back to reggae's sweet rocksteady era.
 
Eric Clapton laces up tasty lead guitar riffs over a powerful acoustified version of Bob Marley's "I Shot The Sheriff," a song Clapton originally helped to immortalize.
 
"We definitely did want some different sounds," says Stephen. "We never want to come with the same ray ray ray. We try to make some of them something you can't really identify. Ah, just music." Among the more unexpected selections embedded on Old Soul are a disarmingly sweet cover of Sinatra's "These Foolish Things (Reminds Me Of You)," as well as Marley's take on The Beatles' perpetually pleading "Don't Let Me Down."
 
The song selection on the new album demonstrates Stephen's courage to defy expectations. "You have to be true to yourself," he says. "I refuse to be put into any category. I am inspired by everything. So if I feel like I want to play some jazz music, I will go play some jazz music. Who dig it, dig it."
 
In celebration of the new album, Stephen Marley will embark on his ambitious Old Soul Tour -Unplugged 2023 this Sept 8 – Oct 22. (Following the Old Soul album's track listing, the fall tour dates appear below.)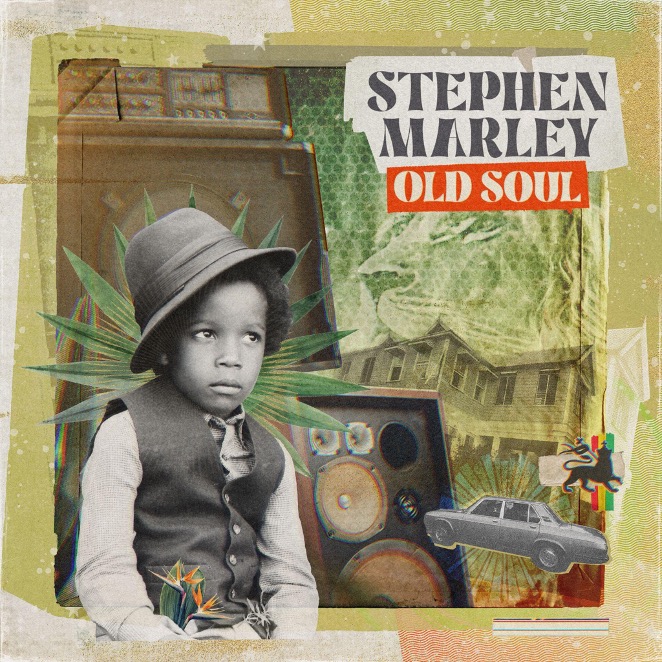 STEPHEN MARLEY: OLD SOUL [Digital, CD & 2LP]
1. Don't You Believe
2. Cool As The Breeze
3. Cast The First Stone – Feat. Damian "Jr. Gong" Marley
4. Thanks We Get (Do Fi Dem) – Feat. Buju Banton
5. Don't Let Me Down
6. Georgia On My Mind
7. Let The Children Play
8. Old Soul
9. There's A Reward – Feat. Ziggy Marley
10. This Time
11. These Foolish Things (Reminds Me Of You)
12. I Shot The Sheriff – Feat. Eric Clapton
13. Standing In Love – Feat. Slightly Stoopid
14. Winding Roads – Feat. Jack Johnson and Bobby Weir & Wolf Bros.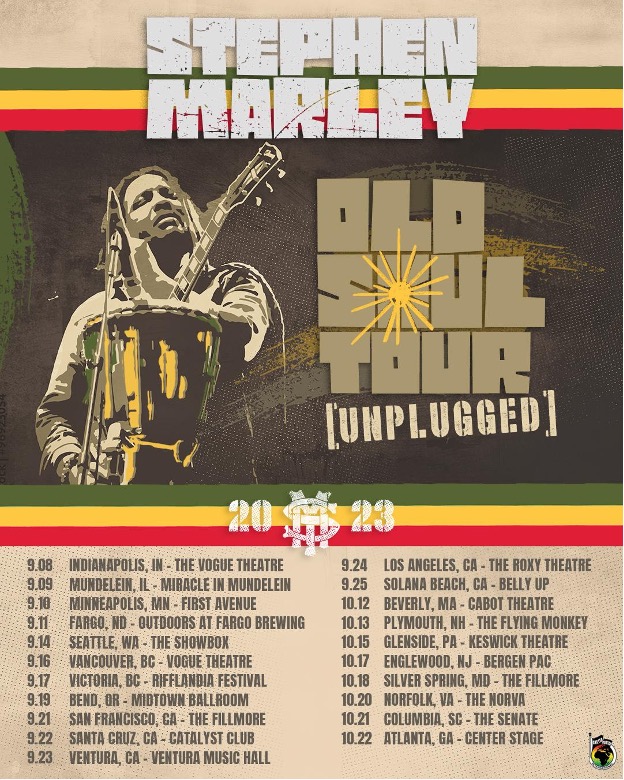 STEPHEN MARLEY: OLD SOUL TOUR UNPLUGGED –
FALL 2023 TOUR DATES
Fri Sep 8 – Indianapolis, IN – The Vogue Theatre
Sat Sep 9 – Mundelein, IL – Miracle in Mundelein
Sun Sep 10 – Minneapolis, MN – First Avenue
Mon Sep 11 – Fargo, ND – Outdoors at Fargo Brewing
Thu Sep 14 – Seattle, WA – The Showbox
Sat Sep 16 – Vancouver, BC – Vogue Theatre
Sun Sep 17 – Victoria, BC – Rifflandia Festival
Tue Sep 19 – Bend, OR – Midtown Ballroom
Thu Sep 21 – San Francisco, CA – The Fillmore
Fri Sep 22 – Santa Cruz, CA – Catalyst Club
Sat Sep 23 – Ventura, CA – Ventura Music Hall
Sun Sep 24 – Los Angeles, CA – The Roxy Theatre
Mon Sep 25 – Solana Beach, CA – Belly Up Tavern
Thu Oct 12 – Beverly, MA – Cabot Theatre
Fri Oct 13 – Plymouth, NH – The Flying Monkey
Sun Oct 15 – Glenside, PA – Keswick Theatre
Tue Oct 17 – Englewood, NJ – Bergen PAC
Wed Oct 18 – Silver Spring, MD – The Fillmore
Fri Oct 20 – Norfolk, VA – NorVa
Sat Oct 21 – Columbia, SC – The Senate
Sun Oct 22 – Atlanta, GA – Center Stage

Visit http://stephenmarleymusic.com for all upcoming tour dates. More announcements will be coming soon!

ABOUT STEPHEN MARLEY
Stephen "Ragga" Marley is a world-renowned singer, songwriter, and producer whose work has earned no fewer than eight Grammy Awards. Born into a musical family, Stephen is the child of reggae legends Bob Marley and Rita Marley. He began singing professionally at the age of 6, touring the world with his elder siblings Ziggy, Sharon, and Cedella in The Melody Makers. In 2008, he released his first solo album, Mind Control, which won the Grammy Award for Best Reggae Album. His subsequent solo albums include Mind Control Acoustic, Revelation Part I: The Root of Life, and Revelation Part II: The Fruit of Life. On September 15, Stephen releases his forthcoming full-length album, Old Soul, via Tuff Gong Collective/UMe/Ghetto Youths International. The new album is a departure from his previous Reggae repertoire, showcasing more of his bluesy, acoustic soul side, as evidenced by the first single, "Old Soul." Stephen is also an acclaimed producer, working closely with his brother Damian "Jr. Gong" Marley on the massive crossover hit Welcome To Jamrock. In addition, Stephen continues to champion charitable endeavors centered in Jamaica as a co-founder of the Ghetto Youths Foundation, along with his brothers Damian and Julian Marley.  In 2017, Stephen established Kaya Fest, the annual music festival, which features special guests and rare family performances, all with the larger purpose of raising awareness around the benefits of cannabis, guided by the mantra "Education Before Recreation." This summer, Stephen embarked on his annual, hugely successful Babylon By Bus Tour, and this week, he commences his Old Soul Tour Unplugged across the US.
stephenmarleymusic.com/
instagram.com/stephenmarley/
facebook.com/stephenraggamarley
twitter.com/stephenmarley/
youtube.com/realstephenmarley